Lait E.V (Embryonnaire Visage)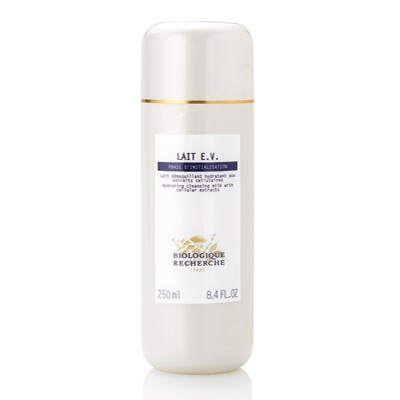 Lait E.V (Embryonnaire Visage)
 Gently removes makeup and impurities.

 Prevents cutaneous dehydration.

 Comforts, soothes and softens stressed and devitalized skins.
COMPOSITION
Antioxidant agent: Tocopherol.

Regenerating agent: Cellular Oligopeptide.

Relipidating, softening agents: Vitamins A and F.
APPLICATION
Over all the face, neck and cleavage.
Apply a small amount of Lait E.V. to the face, neck and cleavage.
Emulsify with small circular movements.
Remove with slightly moist pads or rinse off with sponges.
Repeat until all impurities and makeup have been removed.
Dry with a tissue.
KEY POINTS
 A very gentle cleanser that soothes and comforts your skin.

 Makes your skin velvety soft.

 More than just a cleanser, it also prepares devitalized skins for regenerating treatment and provides instant well- being.