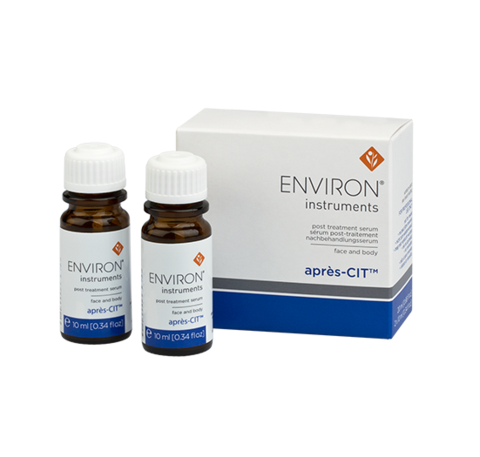 Aprés-CIT
The Environ Après-CIT is a serum formulated to complement non-invasive professional treatments (i.e. Rolling) and contains a combination of peptides namely Matrixyl® Synthe 6®, Matrixyl® 3000 and Trylagen®. The Environ AprèsCIT serum was specially designed to augment the results of treatments so that patients could achieve faster and more impressive results.
KEY INGREDIENTS
Matrixyl® 3000
Trylagen®
Matrixyl® Synthé 6
BENEFITS
The three peptides incorporated into this unique serum are Matrixyl®3000, Trylagen® and Matrixyl® Synthé 6®.
The clinical trials of the raw materials show that the peptides are excellent for: Faster and more impressive changes in overall improvement of the appearance of the skin. The visible increase in plumper and smoother looking skin.
HOW TO USE
After cleansing and cosmetic rolling, apply a thin layer of Après-CIT serum to the skin surface and allow to dry. Follow with your recommended Environ regime containing vitamins A and C. Apply morning and evening until the serum is finished.